BúsquedaLibros (aka DieBuchSuche) - el motor de búsqueda para todos los libros.
Todos los libros para 9782819925866 - comparar cada oferta
Entrada de archivo: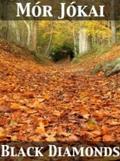 ISBN:
9782819925866 (?) o 2819925863
, idioma desconocido, Pub One Info, Nuevo
Envío gratuito
Black Diamonds: pubOne.info thank you for your continued support and wish to present you this new edition. We are in the depths of an underground cavern. It is bad enough to be underground, but here we are all enveloped in black as well: the ceiling is black, so are the walls they are made of blocks of coal. The floor is one great black looking-glass. It is a sort of pond, polished as steel. Over this polished surface glistens the reflection of a solitary light, the light of a safety-lamp shining through a wire net. Englisch, Ebook
Datos de 25/09/2016 19:34h
ISBN
(Notaciones alternativas): 2-8199-2586-3, 978-2-8199-2586-6
9782819925866
Encontrar todos los libros disponibles para su número de ISBN 9782819925866 comparar precios rápidamente y fácilmente y ordenar inmediatamente.
Libros raros, libros usados y libros de segunda mano del título "Black Diamonds" De Mor Jokai aparecen completamente.
english g 21 workbook lösungen klasse 6 catali dennhof