BúsquedaLibros (aka DieBuchSuche) - el motor de búsqueda para todos los libros.
Todos los libros para 9782819907695 - comparar cada oferta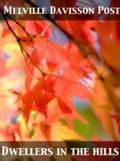 Dwellers in the Hills
(?)
ISBN:
9782819907695 (?) o 2819907695
, idioma desconocido, Pub One Info, Nuevo
US$
2,
89
(
€
2,
36
)
¹
+ Envío:

US$

28,

19

(

€

23,

00

)

¹
=
US$

31,

08

(

€

25,

36

)

¹
(sin obligación de)
Penghantaran percuma
Del vendedor/anticuario
Dwellers in the Hills: I sat on the ground with my youthful legs tucked under me, and the bridle rein of El Mahdi over my arm, while I hammered a copper rivet into my broken stirrup strap. A little farther down the ridge Jud was idly swinging his great driving whip in long, snaky coils, flicking now a dry branch, and now a red autumn leaf from the clay road. The slim buckskin lash would dart out hissing, writhe an instant on the hammered road-bed, and snap back with a sharp, clear report. Englisch, Ebook
Número de pedido del vendedor: 9782819907695
Número de orden de plataforma Rheinberg-Buch.de: 18889_229626_9782819907695
Datos de 01/02/2017 13:56h
ISBN
(Notaciones alternativas): 2-8199-0769-5, 978-2-8199-0769-5
9782819907695
Encontrar todos los libros disponibles para su número de ISBN 9782819907695 comparar precios rápidamente y fácilmente y ordenar inmediatamente.
Libros raros, libros usados y libros de segunda mano del título "Dwellers in the Hills" De Melville Davisson Post aparecen completamente.
kinderbücher gute nacht geschichten industrielles rechnungswesen ikr lösungen